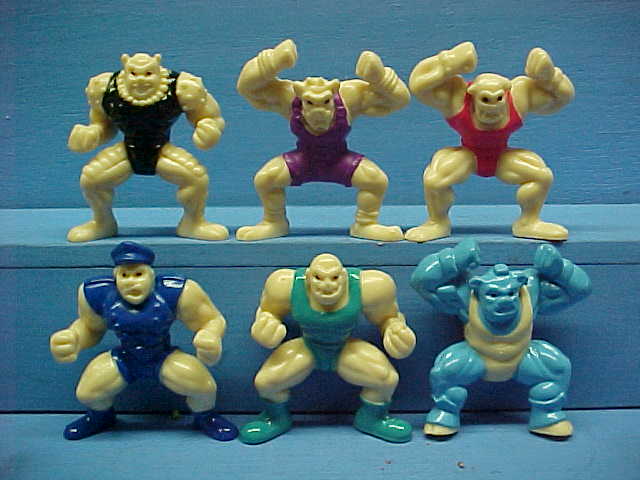 This picture shows six M.W.I.M.P. figures from a 1995 White Castle promotion. These are from top left: Grunt, Gargoyle, Bulldog, Sarge, Goonie, Stomper
The Wrestlers have no numbers, but do say cMEG, 1995. Their names are molded onto their rear ends. The paint is much more limited than on the regular wrestlers. They came in packs of two. The pairs Scott got were as follows:
Grunt & Gargoyle
Stomper & Goonie
Sarge & Bulldog
Another series in this promotion was Kitties in my Pocket (Kitty, Pony, Puppy, Teddy in My Pocket are toys made by Irwin Toys). The Kitties are also different from the Irwin figures and numbered, but there are two threes and two fours. They also have names, under their bases. Two-packs were:
Lauren & Orient
Aimee & Magnetic
Milky & Fantasy
Image and info by E.J. and Scott Andrew Hutchins.